By Fabliha Anbar
     In all sorts of entertainment industries whether it's Hollywood or the music industry, South Asians are usually ignored and are trapped in a marginalized box. Even on social media. We are forced to succumb to a one-dimensional image that doesn't represent even half of what we are.
Here are some badass South Asian social media influencers that crushes the marginalized box the Western world has created that you should definitely check out! 
1. Heleena. M
Heleena is an Indian tattoo artist from Leicester, United Kingdom. A lot of her tattoo designs are inspired by Hindu and Indian art. She proudly lets her heritage and religion creatively influence her work in a beautiful and brilliant way. 
Besides the stunning tattoo designs she creates, she also creates portraits where she represents Indian women no one usually views them as. Powerful. She takes traditional Indian art and combines it with modern 21st century edginess. She doesn't portray the Indian women in her art as fragile and submissive where most tradition Indian art does. There's a sense of control, confidence and compellingness that shines through each of her work. 
She includes alcohol, cigarettes, nudity in her portraits of women which are things South Asian women are never to be displayed with. With her dynamic and powerful artwork, she's destroying archaic standards and expectations of South Asian women and presenting what we truly are; badass. 
You can also buy her t-shirts and cards with her designs and artwork on them! 
Check out Heleena's instagram: here
Buy her clothing and artwork here  
2. Alok Vaid-Menon
Alok Vaid-Menon is a gender non conforming poet, performer, artist and educator.
They shed light on issues involving the LGBTQ+ community and devotes their career on activism while educating people about struggles trans and gender nonconforming folks face. 
They have appeared on major fashion magazines and broadcasting industries such as Harper's Bazaar India, The New York Times and so much more. They also recently completed a world tour travelling to more than 30 different countries and presenting their work at 300 hundred venues. How badass is that?
Alok's writing is absolutely soul crushing. Each word they write is filled with profound pain, pleasure, trauma and beauty.
Watch StyleLikeU's video on Youtube where they talk about what it was like growing up in a conservative Indian family in the suburbs and performing another one of their ground breaking poetry:
Alok Vaid-Menon is unapologetically queer and their radiance and confidence beams not only through their fashion choices, but every other aspect of their life. Alok crushes the one-deminsenional visual of Indians. 
Check out Alok's instagram here
Read more of their poetry/writings here
3. Cas Jerome 
Cas is well known on Instagram and Twitter for her witty humor and striking beauty. Not only does she post  pictures of her snatched, beat face but she also discusses her battle with depression. 
She recently posted on Instagram;
"I wanted to share a little bit about my mental health in honor of #mentalhealthawareness & also bc I have a ton of new followers hiiii. I've suffered with depression and anxiety for most of my life but only was diagnosed when I started high school. There have been a lot of things I have seen and experienced that have contributed to my depression and anxiety. A lot of you know I lived in Africa for most of my life until I moved to the United States, it was hard to adjust and that itself caused me a lot of stress. I never thought I was beautiful. For most of my life I avoided looking in mirrors, I didn't want to see myself. I hated myself. I wanted to die, I didn't think there was any reason I deserved to be alive. I didn't contribute anything to anyone. This impacted my school work, my friendships and absolutely corrupted my mind. I've battled self harming, an eating disorder and so much more that would shock you because that's NOT who I am today. With a lot of help and determination I pick myself up everyday and prove that I am NOT useless. I know what it feels like to feel ugly, useless and unappealing. I know it's hard to talk about and that talking doesn't always help. Please trust me when I say that I didn't know about my potential and you don't know yours. You will meet people that will add so much joy and love to your life. Don't miss out on letting yourself find that. I stayed alive and it was worth it. It will be worth it for you too. Even though I don't know all of you individually, I really care. I don't want anyone to hurt the way I have and do."
She uses her platform to discuss other topics like colorism as well. In her video on Youtube, she bravely speaks out against the South Asian community's racist beauty standards and her experiences where she was criticized and bullied for her dark skin complexion. 
In her posts on social media, she proudly models with traditional Indian clothing and shows that there's nothing more badass than representing your culture and being proud of your ethnicity. 
Check out her instagram here
Subscribe to her Youtube channel here 
4. Sanam Sindhi
Also known as 'trustmedaddy' on Instagram for her badass attitude and fashion sense, Rihanna found her and immediately featured Sanam on her viral hit music video, Bitch Better Have My Money, where she was played part of Rihanna's bangin' girl group.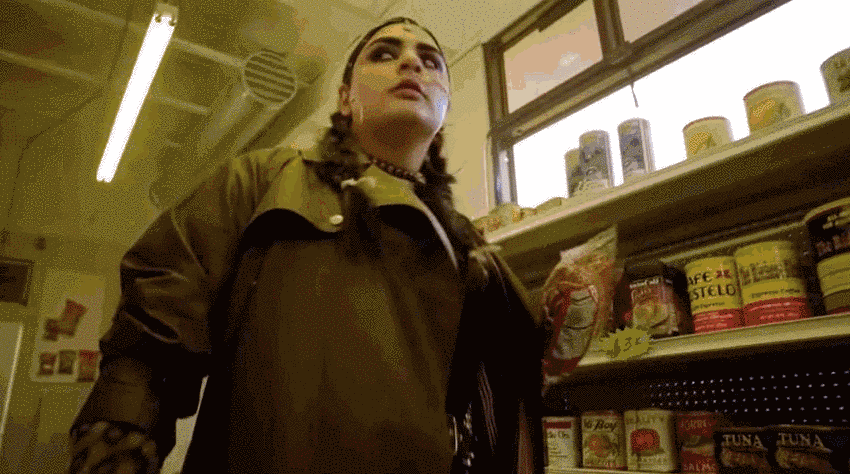 She occasionally changes her fashion and beauty look but they're all always influenced by her Indian roots. In her interview with Elle, she says; 
"I really, really love old Bollywood movies–the makeup is always sooo amazing. I also love just lurking the on the Internet. Right now I'm really into this makeup artist Ania Milczarczyk. But I actually don't know a whole lot about makeup. I've just been using the same stuff forever. I looove rosebud salve. I've been using it on days that I don't wear eyeliner—like dabbing it on my cheeks and eyelids and browbone and lips and the highlight and glow it gives you is sooo good!!"
On Instagram, she regularly talks about her experiences with abusive men and exploring her sexuality.
She also has written several articles and has DJ'd for clubs.
Sanam shows that South Asian women doesn't have to be frail, innocent and obedient. We don't always play by the rules. Her entire look and attitude is completely badass. 
Check out her instagram here 
5. Ayqa Khan 
22 year old Ayqa Khan is a first generation Pakistani American artist. She illustrates art that stands against Eurocentric beauty standards while trying to normalize brown bodies in art and body hair. 
She regularly posts minimalistic and captivating short videos on Instagram of simple everyday moments.
Khan also co-created the Instagram page @southasia.art where she features other fellow South Asian artist's work. She recently curated a gallery in Chinatown Soup and showcased work of several other South Asian artists.
Watch Khan's interview with The Turmeric Project where she talks about body hair, her family and being queer:
Ayqa Khan shows that South Asians are more than doctors, engineers and IT technicians Hollywood displays us as. We are creative artists which Khan shows with her badass illustrations. 
You can buy and check out her illustrations here
Follow Ayqa on instagram here
6. Minahil Mahmood 
21 year old First generation Pakistani American, Minahil, is popular and widely known on Instagram for promoting body positivity. She uses her social media platform to tackle body shaming and rejects myths of what plus-size women could or could not wear. 
She also speaks out about social justice issues, lack of diversity in fashion and global politics. 
Minahil, or Mina, also talks about what it's like being a first generation and fighting against traditional expectations in her video with Allure:
Mina breaks down stereotypes of what a South Asian woman looks like. With her beautiful curves and sassy attitude, she is truly a badass. 
Follow her on Instagram here
7. Riya Hamid 
She confidently posts striking photos of herself wearing only her underwear and a bra, or overalls with no shirt underneath which are against the conservative ideology of how 'proper Bengali girls' should act. 
In her interview with Vogue, she says;
"For a long time, I was ashamed of having breasts. I went through puberty considerably early and was made to feel very self-conscious about them. Even if I were just wearing a basic T-shirt and your average pair of jeans, I would be told to wear a veil over my chest in case I stirred lust in the eyes of some guy. I remember getting ready for a family picnic once and my mom telling me to do that. When I asked her why, she answered, 'Because your uncles are going to be there.' And I was just like, 'Wait a minute, if I'm a 13-year-old girl and my 40-something-year-old uncles are looking at my chest, isn't that their fault? Wouldn't that make them creepy?' My mother's beliefs are largely the result of men misconstruing a religion and molding it in a way that benefits them and enforcing the patriarchy for centuries, so I absolve her of fault. But after that, I just started doing my own thing—thinking critically and nursing this newfound freedom to be whoever and however I wanted to be."
Hamid was recently featured in an ad with other women of color for THINX and for Lonely Lingerie. 
As a Bengali myself, it's amazing to see another Bengali woman do amazing things like Hamid. Bangladeshis are usually overlook and ignored even in the South Asian community. 
She also posts poetry on her Tumblr page, @softestanimal, that explores her interconnection with her Bengali heritage and her femininity. Each word of her poem strikes a chord in my soul as I start to think back to my young teens years. 
Riya Hamid denouncing the conventional expectations and standards of South Asian women with her confidence and representing brown bodies in the fashion industry is very badass. 
Follow her on instagram here 
Read her poetry here
8. Ushshi Rahman
Ushshi Rahman is a Bangladeshi born fat activist and fashion/beauty blogger who currently resides in New York City. 
In her Instagram posts, she posts alluring photos of herself with clothes plus size women are told not to wear. But she still defies societal expectations and rocks her crop tops and low v-neck shirts without a care in the world. 
She was featured in Bustle's body positivity podcast with Marie Southard-Ospina and discussed the history of the fat postitivity movement. You can check it out here:
As you look through her Instagram feed, you can see how she occasionally changes her looks. She dyes her hair in fun different colors like lavender, green, purple and now in a cute pink bob. South Asians are usually told not to dye our hair in bright bold colors since it 'doesn't go well with our skin complexion and features but Ushshi didn't let that stop her.
Rahman's defiant attitude and bold fashion breaks down barriers of what it means to be a plus-size Bengali woman. And that is badass.
Check out her fashion/beauty blog here
Follow her on Instagram here
10. Devin Halbal
19 year old Devin Halbal not only uses their social media platform to post their bangin' selfies with their hoop earrings but also speaks out against bigotry gender nonconforming folks face on a daily basis while educating their audience about gender fluidity.
Halbal also created a short film, Still Figuring Out, that shows a young teen exploring gender while facing torment from the public eye and family:
Devin's unapologetic presence in social media shows just how badass it is to be yourself without giving a fuck what the cis-heteronormative society has to say.
Follow Devin's Instagram here
Read Devin's recent article on Teen Vogue here
11. Chawntell Kulkarn
Chawntell Kulkarn is an Indian-British artist and model for Storm Management. Kulkarn breaks down Eurocentric and conventional beauty standards as she models for major fashion industries such as Burberry and H&M. 
She also shows her artistic talent on Instagram. Here are some of her illustrations:
Chawntell's badass look are showing young South Asian girls that we can also be models and be the face of fashion and beauty. I don't think anything can be more badass than that.
Follow her on Instagram here
Check out her art here
12. Kiran Rai
Punjabi and Canadian born Youtuber, Kiran Rai, directs and writes her own captivating short films and her own online web-series. 
Hollywood tends to make cliche flat characters of South Asians, portraying them as obedient, conservative math-genius. But Rai crushes all of these stereotypes by producing relatable content for South Asian audience. She explores topics like mental health, relationships and realistic conflicts brown girls face. 
Written by Rai and produced by MsMutta, Kiran created a web-series drama, Anarkali, where a young Punjabi woman in Canada tries to make sense of her life after her fiancee breaks off their two year engagement. It's funny, dramatic and intense all in one. I watched it all in one sitting! Watch it here:
Kiran's never-ending creativity and portrayal of strong yet vulnerable brown women shows just how powerful cinema can be, which mainstream Hollywood isn't able to show. Kiran Rai is the definition of badass.
Subscribe to her Youtube channel here
All 12 of these desi social media influencers show how dynamic and complex South Asians are. We are artists, models, activists and people with real feelings. 
These wonderful and talented people makes me so proud to be South Asian. 
This is why representation is truly important.